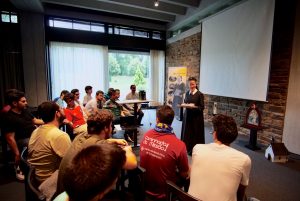 Visit of the Leadership School of the Schoenstatt Young Men in the Mother House of the Schoenstatt Sisters of Mary
Twenty young men from the Schoenstatt Young Men's Branch from Argentina, Brazil, Chile, Costa Rica, Mexico and the USA visited the Motherhouse of the Schoenstatt Sisters of Mary in Schoenstatt on July 13, 2018. They were accompanied by Father José Luis Zabala and Father Andrés Espinoza of the Schoenstatt Fathers.
They were the participants of a leadership training who were at the place of origin and wanted  to absorb the spirituality of Schoenstatt more deeply.
Visit to the Mother House
That is why this visit to Mount Schoenstatt was part of the program, because here are the Adoration Church with the Founder's Grave, the Father Kentenich House, as well as the Mother House and other houses where Father Kentenich himself was.
The boys want to grow into the Schoenstatt leadership – this is also the topic of their visit to the Mother House: they were interested in what the leadership of the Sisters of Mary looks like.
Be a leader in Jesus Christ
 It was our Mater Ter Admirabilis herself who welcomed them in the entrance hall of the house, crowned here as "Queen of the Mariengarten". She is the queen who leads us to the Triune God. From here they went to the house chapel to greet Jesus in the Blessed Sacrament – Jesus, the author and completion of the faith, as the Letter to the Hebrews calls him.  He is the ultimate leader in whom we can be real leaders.
Then the boys received a little "strengthening". They could then be more attentive to the explanation in which they learn that the Schoenstatt Sisters of Mary are a Schoenstatt-inspired lay leader community in the service of the Church. For this mission, the sisters live out of the Covenant of Love with the three so-called contact points:  Our Blessed Mother Mary, the Schoenstatt Shrine and Father Kentenich. They cultivate prayer, the apostolate and community life which is family like.
Finally, the young men see a series of pictures from areas in which the sisters work.
They asked many questions about things of interest to them:  for example: What is the relationship between leadership and being a child before God? How can you grow in this spirit? How many Schoenstatt Sisters of Mary are there in the world? In which countries do the sisters have their own novitiate? What is the path of the sisters from entry to final incorporation?
The joy remains in their hearts
Time passed very quickly, but the joy of this encounter remains in all hearts! Surely they will see each other again in these weeks when the boys will have more activities. It was a beautiful "Cor-in-the-patre experience" that strengthened the unity of the international Schoenstatt Family.
The boys gave the sisters a very beautiful picture of Our Lady of Guadalupe and a delicious almond turrón!