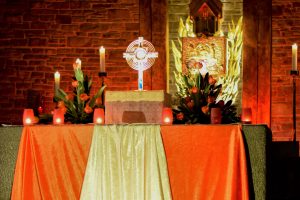 The idea had been discussed for a long time, now in the "Kentenich year" it could be realized: On every second Saturday of the month at 7:30 pm  a designed adoration time in Schoenstatt.
The Adoration Church on Mount Schoenstatt, in which the founder Father Kentenich is buried, is a good place for it.
To become still
 The special lighting conditions in the church and the beautifully designed altar island help to really pray. Music, songs, prayer texts and silence alternate. Everything invites one to become quiet externally and internally, to just be there. And to be there with everything that belongs to us.
Everyday life with its demands and challenges, but of course also with the moments of happiness, does not have to stay outside the door, but can be taken along to Jesus Christ, who is present in the monstrance. With him, everything can come to rest, before everything can be laid out.
Father Kentenich puts it this way: "We want to learn once more to rest in God."
If you want, you can light a candle in front of the altar and express your request in this way. Being so close to the monstrance at this moment is something special. That's why some stay in prayer a little longer.
If you really want to talk things out, you have the opportunity of conversation and confession with the priest who is present.
 Meet God
 Atmosphere and action invite you to meet God, to get into personal conversation with him.
A woman who actually just happened to come to the church that night has seen it happen. She says: "The music was wonderful! I could really tune in and the music, the singing, everything has led me to a deeper prayer It was an experience for me (…) I just wanted to look at the church and I stayed until the end and was happy. "
And another: "Actually, I was pretty tired after a busy day. But I had witnessed the 'Hour before the Lord' a few times and I knew it was doing me good. That's how I set off on the way. – Already on entering the church, the mood changed in me. And in the end I was able to go home stronger again. No trace of fatigue was left in me. The 'Hour before the Lord' has awakened new powers in me. "