Celebration of the Silver Priest Jubilee
of Fr. Bernd Biberger
The Adoration Church on Mount Schoenstatt was the "Place of the Magnificat" on June 19 for all those who attend the solemn Mass on the occasion of the silver priest jubilee of Fr. Biberger, the Director General of the Schoenstatt Sisters of Mary. This is how Dr. Peter Wolf explained it in the sermon for this celebration.
Numerous guests enjoyed the anniversary: his parents and relatives, confreres from the Schoenstatt Institute of the Diocesan Priests and the Schoenstatt Fathers, the General Presidium and not least many Sisters of Mary. They all warmly welcomed Fr. Biberger at the beginning of the jubilee Mass. He smiled and remembered his future prospects 25 years ago: first to work as a chaplain, then accepting a pastorate. But the way he was led as a priest was quite different: After years of higher studies, the appointment as Director General of the Schoenstatt Sisters of Mary took place.
Three biblical paths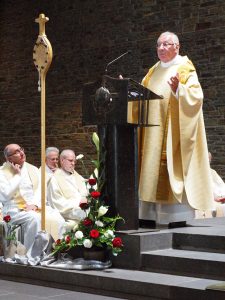 So it was fitting that Msgr. Wolf, longtime companion of Fr. Biberger, presented the three paths that are presented in the scriptures and combined them in the sermon with the Jubilarian's personal path.
– It is the path of Abraham, which confirms the experience that God expects people to follow difficult and challenging paths leading to greater fruitfulness.
– It is the "preeminent path" of love, as described by the apostle Paul in 1 Corinthians, and is      found in the motto for Fr. Biberger's First Mass: "The greatest is love."
– It is the way to the mountain of the Magnificat, on which Elizabeth is the first to recognize the vocation of Mary as the Mother of the Lord. Thus, the Magnificat is at the same time the thank-you song of every Christian vocation, and today Berg Schoenstatt is for us the mountain of the Magnificat, in which the Jubilarian and we may join with Mary.
Thanks and joy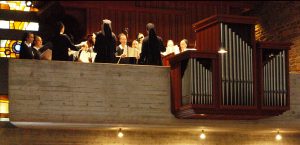 Thanks and joy on the Jubilee Day are expressed in a special way through the musical arrangement by a special choir of the Schoenstatt Sisters of Mary. Accompanied by organ, flute and cello, they sing a Mass by Jacob de Haan and the 7-part Ave Maria by Franz Biebl.
After heartfelt words of thanks, Fr. Biberger gave the blessing and expressed the desire that the love of God would be the power that moves our lives.
Family encounters
Then the celebration continued. The invited guests spend the day in the Mother House of the Schoenstatt Sisters of Mary. This gathering was characterized by happy encounters and good conversation.
In the solemn Benediction in the Motherhouse Chapel, we once more gave thanks for the vocation and the blessed way of Fr. Biberger since his ordination.