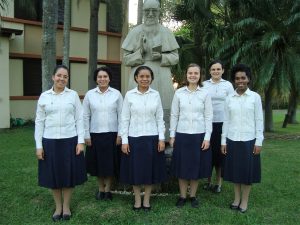 This year's Easter was a day of joy and anticipation for six young women. They began their journey as
postulants of the Schoenstatt Sisters of Mary
in Tabor Province, Santa Maria (Brazil). After a period of trial and reflection and a two-month candidacy, in the Easter Vigil they were allowed to meet the Risen One who called them by name: "You are mine!"
We would like to get to know them:
My name is Jaci Morais.
I'm 22 years old and I'm studying psychology. My hometown is Olinda, Pernambuco in northeastern Brazil, where I joined the Schoenstatt Girls' Youth in 2010. That's how I came to know Schoenstatt and found my favorite place, the family that the Eternal Father has chosen for me.
In addition to my studies and the plans that I made for my life, I wondered about my vocation, but I was worried about changing my plans, especially with regard to my vocation. The Father God has gradually made me realize that only in Him can I find true freedom and true happiness. And none of my planned successes would satisfy the great longing of my heart. I started to let him guide me in my decisions
In the second last year of my studies, the grace was given to me to choose the life of a Sister of Mary. The plans I had made lost their meaning, and I no longer saw professional life as the center of my existence. I found in the shrine a mother, a father, and Jesus Himself, who love me infinitely and desire me to become a little tool in their plan of love.
Having been given the abundance of divine love, I had the strength to make the necessary renunciations. I discovered the joy of belonging more and more to God. Today, as I begin my journey as a postulant of the Schoenstatt Sisters of Mary, I find an answer to what I lacked. I found happiness in the plans that God has for me.
My name is Maria Mariana
and I'm 24 years old. I come from Maceió, Alagoas (northeastern Brazil) and have completed my studies in history.
Today I begin my postulancy and soon will have the grace to be a Schoenstatt Sister of Mary. I am aware that the election by the Mother of God is a great grace. I want to dedicate my whole life to Mary as a Sister to Mary. My longing is to become a little Mary to serve others.
So, at the beginning of this path, with an explosion of happiness, I also experience peace and inner rest. If that may seem contradictory, in the shrine I have found the vocation to which God has called me from all eternity.
Through the Schoenstatt work I want to be faithful to the mother and to the father and founder!
My name is Renata Zanchin,
I'm 18 years old and I'm from Frederico Westphalen, RS.
It is a great pleasure for me to begin postulancy in the Secular Institute of the Schoenstatt Sisters of Mary. This fulfills a longing that I have long cherished in my heart.
In His merciful love, God has called me from among so many young women near the shrine, the school where the Mother of God shapes her instruments. Through me, she wants to unveil her and her son's traits in the world. It is therefore a great gift for me to begin this way of fulfilling the will of God in my life.
Not only the joy of vocation lives in me, but also the joy that I was allowed to speak a heroic yes to the plans of God and our dear mother.
"I do not need to worry about anything. God has planned and sketched the plan of my life for eternity. I just have to say yes."  (J. Kentenich)
My name is Wanessa,
I come from Pernambuco. I am 19 years old and I was granted the grace to become a postuant of the Schoenstatt Sisters of Mary.
The uncertainty about my vocation has always worried me, but I always put the reason for this restlessness in the background, because I devoted all my time to my work as a parish secretary and studying pedagogy.
One day I was invited to visit the shrine of the Mother Thrice Admirable and Queen of Schoenstatt in Garanhuns and the Mother of God attracted me so much that I turned my attention to the question of my vocation. I attended several meetings that helped me to recognize the love and the call of God.
"When the Holy Spirit works in the depths of the soul, it knows only one longing: to fulfill the Father's desire and to be in tune with His will." (Father Joseph Kentenich).
So I have decided to give my love to God. I was reluctant to give up my plans, but the most important thing for me was the fulfillment of what he had planned for me from eternity.
Today I can say that I have found the meaning and the joy which my heart desired.
My name is Antônia Menezes,
I'm 26 years old and I'm from Cascavel-CE Northeast. I am a nursing assistant.
The joy of being a little Mary in the world allowed me to give up something that seemed very precious to me. But God has led me to a place I did not know yet. He called me by name and said, "You are mine!" It became difficult for me to say yes to this appeal, because I seemingly had other more interesting possibilities. But I dared and said yes to the invitation of God. From that moment on he has led me, and my life has been given a new meaning: the grace of true vocation and the joy of having found true love in Jesus.
Today I renew my little Yes as a postulant of the Schoenstatt Sisters of Mary and I realize that all that I have experienced so far – the concern and the renunciation and above all the risk of the answer – were necessary, so that the loving will of the Father could be fulfilled in my life. He has led me to this place of grace, so that in me there can be a little Mary.
My name is Driene Jaqueline,
I'm 21 years old and I live in Garanhuns-PE in northeastern Brazil, where I also studied law.
In 2016, I met the community of the Sisters of Mary in a meeting about vocations at the local Schoenstatt Shrine. From that point on, the Marian charisma of becoming a "little Mary" inspired me. In 2017 I lived with the sisters for five months and today I am looking forward to starting the path as a postulant of the Schoenstatt Sisters of Mary.
My decision required some renunciations that I found difficult, such as the interruption of my studies. But I understood that the renunciation was small compared to the longing that God had awakened in my heart.
Today I see that it has been worthwhile to renounce the joys of the world to experience the true joy that comes from God.
How beautiful it is to give one's life for something great!