A "breath of the world church"
is experienced by our sisters in the small village Naundorf near Pirna in Saxon Switzerland. Schoenstatt Sisters of Mary have been living and working there since 1955. Today, they run the Caritas Family Retirement Service and help with guest services. Many people of various ages and from completely different life situations have, over the years, found here peace and relaxation for body and soul, including the Schoenstatt family in eastern Germany and the adjacent Czech Republic. In addition to the impressive natural surroundings, the beautifully designed church and a small forest pavilion – lovingly called "Kapellchen" – contribute to this. There, a big picture of Our Lady greets us.
Bishop Clemens Pickel / Russia
In autumn 2017, Bishop Clemens Pickel was able to spend a few days here. He comes from the diocese of Dresden-Meissen and today heads the southern Russian diocese "St. Clemens "based in Saratov. He is currently the chairman of the Russian Bishops' Conference. He asked immediately last year if he could not hold a convention in this beautiful area with his about 100 pastoral workers. So, many plans went back and forth, and the end of April 2018 it was time. Since Bishop Pickel can look back on 30 priestly years and 20 years as bishop in these months, he wanted to celebrate with his co-workers, his family and many friends in his home bishopric. Thanks to generous support from many sides this has become possible.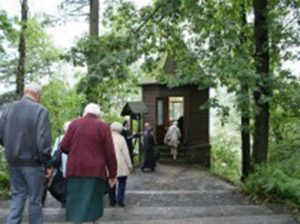 Great pastoral conference
Of the 40 or so priests and 60 religious, only a dozen came from Russia; the others were from over 20 countries around the world. In their various habits and priestly garments they formed a colorful picture of the universal Church.
In addition to lectures, talks and working groups there was also time for hiking, celebrations and, above all, for prayer. The church was almost too small, and so the bishop said: "When I came in the morning at half past six to unlock the church, usually someone was already waiting at the door. And one hour before the Mass, the pews were already full as were the chairs that were additionally brought in. Anyone who saw us but did not know that the 30 minutes evening worship hour was a free offer must have considered it a 'must attend' event. Our pastors pray. I think that's the silent answer to some of the questions we've been asked. "
Joy and gratitude
As other events took place at the same time, these days were a big challenge for us sisters. But the joy and gratitude of our international guests was greater. The echoes testify: "It was like a fairy tale," said a participant, "so clean, so beautiful, and so cordial!"
However, traveling as far as they did this time is the exception. "Normally we meet in an old pioneer camp on the Volga," says Bishop Pickel. "The time here was full of hours of reunion, but also admiring the beauty of nature. You do not have to explain the word 'diocesan family' if you are allowed to belong there or at least stand near it. Perhaps more happens in such moments than in long essays on renewal and deepening, on meaning and Christian joy. "
We sisters are happy that we were able to contribute and that the Blessed Mother has blessed the hearts in abundance.
Further information: "Ich bin noch auf dem Heimweg"