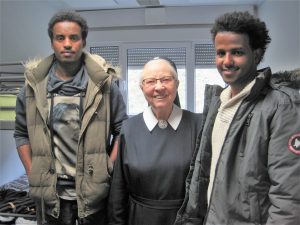 As a parish helper,
Sr. M. Silja Mattle
works in a retirement and nursing home. In 2016, an accommodation for refugees was built within the house. 18 young men moved in. Sr. Silja says: "In May, some of them came to me and sought contact. I was very surprised that they were approaching an elderly sister. In the meantime, nice contacts have been made. What cannot be done with language is brought about through gestures, a smile and a repeated explanation. "
Interest and appreciation
Sr. Silja cannot do much for the refugees. "It is important to have time to talk to them, to be interested in them. That's good for them. Above all, they feel the benevolence and esteem that  is given to them. " – "You are now my Swiss mother! "says one to her. Every week Sr. Silja visits them. She sees the tight living conditions, the dorm rooms, the unadorned walls. She is shocked and astonished: "The young men do not complain." At Easter and Christmas, she brings everyone a small gift. She invites the refugees to a trip to Quarten and a friendly evening in the cafeteria. Many follow the invitation. She is pleased.
Three nuts and a mandarin
The refugees are homesick for their relatives, for their country. They tell little about their escape. Sr. Silja shares with them suffering and joy. "X. beamed at me formally and said: Today I got the Visa B! Did you pray extra for me in Quartens?!"  Now he is allowed to look for an apartment and, after completing the German lessons, a job. The young men celebrate with "Appenzeller beer". And Sr. Silja contributed three nuts and a mandarin. "They are very affectionate. When I was away for a few days recently, a message came: Where are you, I miss you".
Queen of the refugees
Above all, Sr. Silja includes the refugees in her prayer. She gives a very small crown to the Blessed Mother. "Maria, you know, I filled it with prayers and sacrifices for 'my refugees', who are also your refugees. Take the crown. I choose you as Queen of the Refugees. With great confidence, I ask you for my ten Eritreans who have grown dear to my heart. Give them a good future. I want to pray for them every day. Mother of Beautiful Love, show them much that is joyful, beautiful and good in their lives. Amen."