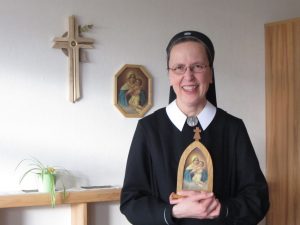 For a year now, I have been visiting a retirement home on a regular basis. I take the Blessed Mother along in the Visiting Pilgrim Shrine. And I have the opportunity to give Communion to the sick if necessary.
Make someone happy
Once I came to a resident when she was visiting another resident. She played songs on her violin and the other sang as best she could. Both had a lot of fun.
One time, I spontaneously visited a woman whom another resident had mentioned to me some time ago. In the beginning, the woman was a bit reserved, because she was not prepared for this. But then she became more and more lively and told me much about her life. I felt that this was good for her. She also had questions, and I could help her a little and encourage her. In the end, she beamed with happiness and thanked me warmly. The Blessed Mother had led me there to give this woman a little joy by listening.
A particularly intense experience
A dementia resident, whom I visited from the beginning, became weaker and was dying. During a visit, I was able to give her Communion and ask if I should call a priest. She agreed to this. When I came back to her room, she did not react when I spoke to her. Since she always liked the Pilgrim Shrine, I gave it to her. There was a change with the woman. She took it very firmly in her hands, looked at it with big, bright eyes and spoke – in incomprehensible words – with the Blessed Mother. I'm sure she said important things to her.
A few days later I went again, and there was her son, who lives far away, and had come to visit her. I could tell him about the experiences with his mother. That has obviously done him good.
Bring the Blessed Mother in the Pilgrim Shrine
A woman who suddenly needed to be cared for and could not interiorly cope with this is happy if I sometimes leave the Pilgrim Shrine with her for a few days. She is very connected with the shrine and can thus more easily give the Blessed Mother all her suffering. Because she knows that her children mean well with her, she tries not to complain to them anymore but to carry this quietly for herself.
For me it is a beautiful task to bring the Mother of God to the residents, to listen to them, to speak with them and to pray.