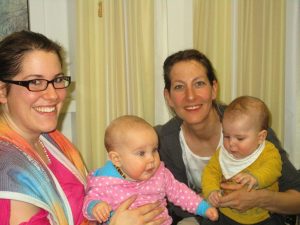 Schoenstatt House in Brig, Switzerland, with the
Shrine "Source of Living Faith"
has become an oasis in the last 14 years. Many people draw strength here for their everyday lives. "This is really a beautiful place with a special atmosphere," visitors say again and again.
Schoenstatt House is also an oasis through its religious and spiritual offerings. In the "Kentenich Year", we eight Sisters of Mary want to give to people through the person and spirituality of our founder, Fr. Joseph Kentenich, impulses that help to make more positive their hectic and challenging life.
Sr. M. Doria Schlickmann, the author of various Kentenich books, has lectured in our Schoenstatt Center for four years. These lectures are very popular. From the 10th to the 12th of March 2018 Sr. M. Doria was in Brig again. She spoke on three topics:
Let go – let myself go – let it go
"Letting go is necessary and is part of our life," says Sr. M. Doria. This process is not easy and must be learned. It's about letting go of your own person, about letting go of honor, about letting go of becoming loved, of happiness. It is also important to let go of the partner and the children, to accept them as they are and not as one would like them to be. The speaker is convinced: "We will be relaxed if we learn to give ourselves to a you, to entrust ourselves to God." The lecture, the discussion by the couples and the exchange with others gave the couples valuable suggestions.

Childlikeness – a key to life mastery
"Anyone who knows how to discover and cultivate the child within themselves can deal with the hardships and burdens of life differently," it said in the invitation. And who of us does not want that? Father Kentenich himself mastered life by giving himself completely to God and his guidance as a child. If you become a child, you will be able to make difficult journeys easier. This topic and above all the question: "How do I become a child – very practically?" interested those present.
Dealing with fear – how can I get rid of it?
Who does not know them, the multitude of fears that arise and paralyze us? We are afraid of loneliness, of misunderstanding. Sr. M. Doria: "Fear paralyzes, diminishes the quality of life and restricts our personality." Listeners are reminded of how Father Joseph Kentenich, in the course of his difficult life story, becomes free from fear through faith in God. The big applause shows how much Sister M. Doria has hit the "life-nerve" of many. "I could have listened to Sr. M. Doria for a long time," says a woman after the event.