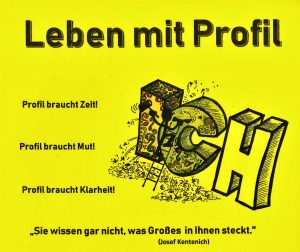 "My life and the life of Father Kentenich – are they not worlds apart?
It cannot be that he has something to say and to give to me and my life!"
An understandable reaction when you see "only" the great founder and his work in front of you.
But he, too, could only walk the path of his life step by step.
He, too, had to contend with everyday demands and accept defeats.
He, too, had to struggle for what God wanted him to do – just like all of us!
Father Kentenich does have something to tell us because he knows life!
Therefore, we cordially invite you to an
"hour of encounter"
in the Father Kentenich House on Mount Schoenstatt
every Saturday and Sunday from 3:00 to 4:00.
The topics "taken from the midst of life" change every three months.
January to March:    Crossed plans
April to June:    Living with a profile
July to September:    Discover the serenity
October to December:    When the time had come
– with Sister M. Linda Wegerer, Germany –
From April 1st to September 30th, the house is open during the following hours:
Tuesday to Friday, 1:15-5:00 pm
Saturday and Sunday, 11:00 am -12:00 pm and 1:15-5:00 pm
On Mondays the house is closed.