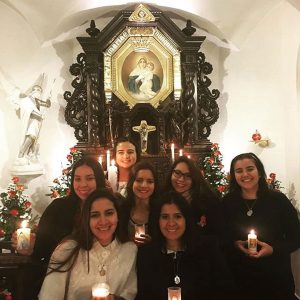 Immaculata Patris – Ver Sacrum for today!
Seven young women from Paraguay and Chile spent almost two blessed months in Schoenstatt from January 8 to March 4, 2018. They lived with the Sisters of Mary on Mount Schoenstatt. They wanted to grow deeper into Schoenstatt's spirituality and then fly back home strengthened to help – as an image of Mary, the Immaculata – that a new holy springtime can spread from Schoenstatt all over the world.
The program's theme: Immaculata Patris, Ver Sacrum for today! This theme was chosen by the young women themselves. It included group lessons which mainly dealt with the Home Song, a prayer written by Father Kentenich in the Dachau concentration camp. They went on trips in the footsteps of Father Kentenich to Gymnich/Cologne, Limburg, Bonn, Trier, Metternich, Liebfrauenhöhe, Munich, and Dachau, and of course, had as many encounters as possible with the founder in Schoenstatt itself. The young women visited the various houses in Schoenstatt, and had meetings with members of the various Schoenstatt communities in the institutes, federations, and league branches, which served to clarify their questions about the structure of Schoenstatt.
Through these meetings, but also through the prayer times, holy Masses, and other events that they experienced with other Schoenstatters, they felt deeply connected with the Schoenstatt Family, because they were lovingly welcomed everywhere.
On the other hand, the young women enriched and brought joy to the local Schoenstatters, for example with their dances, or with their culinary skills!
With a lot of new knowledge, many new experiences, many new friends, they return now, but they know: It was not the last time they will be in Schoenstatt! The will come back. Above all, their hearts will stay forever at this holy place!
An echo from one of the young women is a summary of that time:
"This time in Schoenstatt, the testimonies of the local Schoenstatters, has shown us that the high ideals of Schoenstatt are attainable in many ways, and that gives us hope, which encourages us to strive for these ideals.