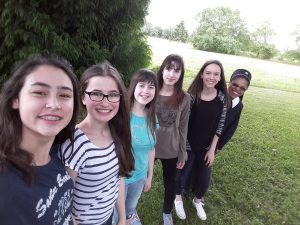 I had just returned to Schoenstatt from South Africa a half a year before – a few girls near the Original Shrine came to me and asked me if I would like to begin a Schoenstatt group with them. I was totally surprised, but also gladly ready to do this.
Since then in 2012 I have been meeting with six girls – at that time ages 10 and 11 – every two weeks for two hours. We exchange thoughts in a discussion, take up Schoenstatt themes, and become active for others.
The Feeling of Being at Home
The special highlight of each year is our weekend together in the Sonnenau. The planning and organizing of our weekend was especially original: Together we thought over a menu for the entire weekend. Then we went as a group through all the stores in Vallendar in order to compare prices and to reach a realistic cost for our provisions. Since then we have had the same menu every year. And that is important for all of us.
That is what one of the girls told me at our last meeting: "Everything belongs together at our weekends: the community that we form and our typical menu. That is like a ritual which gives one the feeling of being at home."
And still a second ritual is especially important: Always on September 29 we celebrate the "birthday" of our Schoenstatt Girls Group. In front of our group meeting room hangs a garland with the words "Happy Birthday." And a homemade birthday cake with the appropriate number of candles is in our room.
My View of Things
Occasionally the girls write an email about their "view of things." Thus recently one of them (16 years old) wrote: "Mary is for me the Mother of Jesus, thus also my Mother. She is quasi something like a Queen. She acted in amazing ways and she is someone I can talk to. I think that Mary always pays attention to me and I always have a place in her heart. I am proud to live here (in Vallendar) and that I have the Original Shrine directly in front of my door."
Another email about Father Kentenich: "Father Kentenich has formulated really wise and beautiful sayings and he really had to work hard in order to found Schoenstatt. I admire him in many aspects. But I can relate even more to Joseph Engling."
For me it is a great gift to accompany and to experience, on one hand, the personal growth process of the girls, but also their growth process into Schoenstatt. I am grateful because I can experience that "your hearts have caught fire."