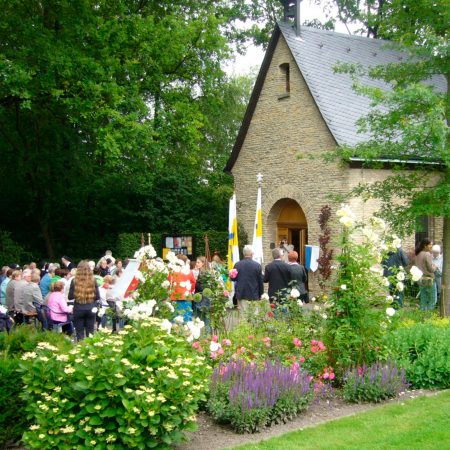 Experiences at the Schoenstatt Center "House Mariengrund," Muenster
"Peoples and Nations Stream to Your Dwelling…
…bringing their gifts of gratitude. Through your gates they enter in wonder, for they behold God's glorious light!" These are words from the pilgrimage song to the Mother Thrice Admirable, Queen, and Victress of Schoenstatt. All over the world people from all nations are attracted to the Schoenstatt Shrine, also to the shrine at the Schoenstatt Center "House Mariengrund" in Muenster in Germany. Sister M. Josit reports a few highlights from her international encounters at the shrine:
Visitors from Syria, Nigeria, and Vietnam
For some time, a young Syrian who belonged to the Syrian Orthodox Church lived in a trailer home behind the shrine and daily brought his worries and his intentions about his relatives, his professional development, and his romantic concerns to the Blessed Mother. A priest from Nigeria who wanted to work for his doctorate at the university also lived there and regularly celebrated holy Mass in the shrine for us sisters. One day a priest of the Steyler Missionaries from Vietnam also came to the shrine. When I spoke with him and told him of the beautiful Marian song which our Vietnamese co-sister, Maria Gorettie, had sung at the celebration of the 100th anniversary of Schoenstatt in 2014, it was discovered that he was the one who wrote the song and that he knew our co-sister.
A Mexican in Muensterland
One morning, a priest who was a stranger to me and who I thought was from India, celebrated holy Mass with us in the shrine. He told us that he is from Mexico and had lived for a long time here in Muenster. Whenever he is here, he must always come again to the shrine.
Childhood Memories of a Woman from Canada
 A short time ago we received an email in which a woman from Canada asked when our shrine is open. She told us that in her childhood she had lived here in this neighborhood and had been in the shrine at least one hundred times. We met her here during her visit to her homeland. Through a Brazilian friend she now belongs to a pilgrims' circle in Canada.
Young Men from Poland Have Night Adoration
 During night adoration in the shrine, four young men from Poland came in. They said they would return later, after their party. And really, at about 3:00 in the morning they came and brought along a group of young people who prayed very devoutly. One of the young men from Poland told us that they came from a Polish mission in Dortmund and belonged to Schoenstatt, that the Pilgrim Mother came to them, and that shortly before they had been in Schoenstatt.
International Meeting for World Peace
 A special event in September was the large international meeting for world peace in Muenster and Osnabrueck which had been organized by the Sant'Egidio community with the bishops of Muenster and Osnabrueck. People from Belgium, Austria, and the Czech Republic came to the shrine. I could tell them about our Schoenstatt centers in their homelands. At the final rally the representatives of the various religions came together on the square in front of the Hall of Peace in Osnabrueck in order to proclaim the document they had worked out together in which the representatives of the religions had obliged themselves to work for peace in God's name. During this proclamation there was a wonderful rainbow visible in the heavens; as it were, a confirmation of the common will for peace.
May our Schoenstatt Shrine, to which so many nations come on pilgrimage, contribute to the building of a covenant culture between the nations and cultures.