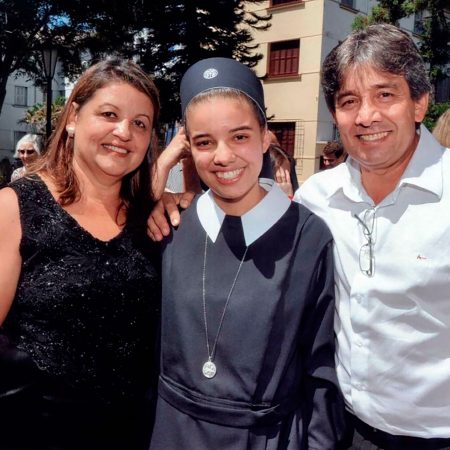 Hélio  and Mara Martins from Santa Maria/Rio Grande do Sul, parents of Sister Cristiane Maria,  have been happy for four years about the vocation of their daughter as a Sister of Mary. They tell about the path which they have walked since the time of their daughter's decision for the consecrated life.
Editorial Staff: Mr. Hélio  Martins, were you surprised by the decision of your daughter? Why?
 Mr. Martins: Yes, it was a surprise, also for my wife. Even though Cristiane participated actively in the Legion of Mary, we never thought that one day she would decide to live a life dedicated to God. I began to sense something when she came home from school and told us that in class she had spoken up for the young people who lived as candidates with the Sisters of Mary and that she admired them. A friendly relationship developed and Cristiane began to visit them more often in their house. But I think this story began much earlier. With this I mean a card which I found at my grandmother's house. It said: "Guardian of the Schoenstatt Shrine!" Perhaps it was just the prayers of my grandmother that awakened in the family a vocation for the Sisters of Mary.
Editorial Staff: How far do you as parents feel yourselves responsible for the choice of your daughter?
Mr. Martins: From the beginning my concern was that of every father: to lead the children to the sacraments and to educate them so that they liked to pray. Prayer in the family is important so that God is given a chance to speak to us. We always fostered prayer and took part in meetings at the parish. We have the custom to pray the rosary together when we travel. I think that the Blessed Mother actually had the most important influence on the vocation of my daughter.
Editorial Staff: Did you as parents once pray that one of your children would be a priest or a sister?
 Mr. Martins: We always wanted what is best for them. I have always prayed for religious vocations, but to say it honestly, I never thought that one of my children would one day receive this vocation because I have never felt myself worthy. When our daughter told us, I was very surprised. It was as if I had received a gift. Although we had never prayed for a religious vocation, we did dedicate our children to the Blessed Mother in the Schoenstatt Shrine. In Sister Cristiane Maria's case, we dedicated her before her birth because shortly before, complications had set in. Perhaps at that time the Blessed Mother had already accepted her dedication on another level, in view of a greater dedication. Our family is also very happy that now she has also added the name Maria to her name because we had already decided that the first grandchild should be called Maria.
Editorial Staff: What was most difficult for you in this decision and how did you overcome it?
 Mrs. Martins: It was difficult. I missed having her around the house because she was always my closest companion since the older children had many obligations outside. However, with prayer I slowly managed to accept her decision and her going away from home.
Mr. Martins: It was also very difficult for me. I still remember that we would often go fishing and she was not satisfied when we only caught a few fish. Today I am convinced that as a Sister of Mary she can fish people for Jesus. It was also difficult for me to hear how a few people criticized this decision and demanded that the parents should not let her go… As a response to this exterior pressure I only prayed and said that this is "God's work" and therefore I could not forbid that she follow her vocation.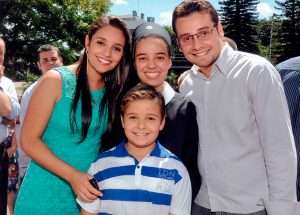 Editorial Staff: Mrs. Martins, has anything changed in your family since your daughter has followed her call to the consecrated life?
 Mrs. Martins: Yes, we have grown together more as a family and we also take part even more in the life of the church, in the groups and in praying together as a family.
Sister Cristiane Maria tells us her story