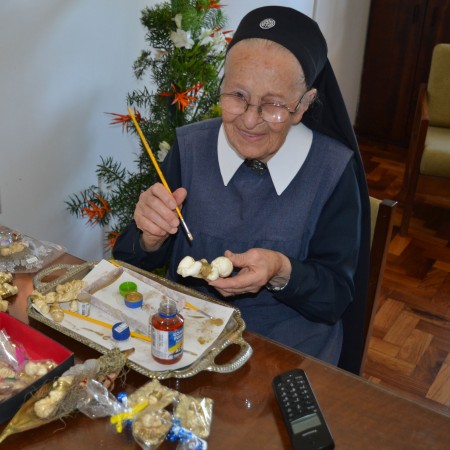 Who does not know the name Sister M. Leocádia? For more than 40 years she has worked at the reception desk of the provincial house of the Sisters of Mary in Santa Maria, Brazil. She was born into a very religious family. Her parents gave to the Church four priests – one was later a bishop – and three Sisters of Mary. She is always happy, attentive and ready to help. How many times has she not already picked up the telephone? How often has she opened the door for all those who come to our house? Her willingness to serve wins all hearts. Besides her daily work, she also has a hobby which she pursues with great enthusiasm and which is at the same time a fruitful apostolate: She makes little Christ Child figures out of plaster.
"I enjoy what I am doing very much!"
The figures are finished with much hand work. Sister M. Leocádia first pours the form, allows the figures to dry, files the edges, polishes and paints them. Then come the decorative nuances: she glues the figures on a star, a piece of tree bark, or a candle. After this, she packs them individually or with Mary and Joseph as the Holy Family. The entire work is accompanied with prayer and a conversation with the Christ Child. With childlike joy, she who is 80 years old tells us: "During the work I speak with each one and call them my 'little friend.' And I tell them that now they will bring the grace of salvation to humanity from the shrine. I enjoy what I am doing very much!"
Christmas throughout the Entire Year
The Christ Child figures are not only made for Advent and for the Christmas season. In February, right after her vacation, Sister M. Leocádia begins with the work. Each year thousands of these little figures leave her workplace. Each is unique with a different size and form. And where do they go? They go to schools, hospitals, prisons, into the families of the Schoenstatt Movement, and to the children and young people in catechesis. For Sister M. Leocádia this is a genuine apostolic field and she is happy that with her work, she can also financially help support the province.
In the beauty of each figure, one can recognize the joy of a person who has dedicated her entire life to the mission of Christ and Mary, so that the Blessed Mother can bring Christ anew from her shrine to the people.