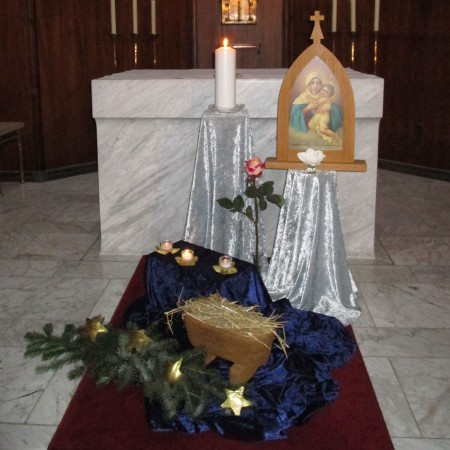 Every year the Schoenstatt Sisters of Mary in the Formation Center Marienland on Mount Schoenstatt celebrate Christmas together with their co-workers. This year the celebration took place in the circle of days around the feast of Christmas, on December 17, 2017.
Marienland –Formation Center and a second home
The Formation Center Marienland can be found very near the most important locations in the place of origin of the international Schoenstatt Movement:  the Original Shrine and the Adoration Church with the Founder Chapel where one finds the grave of the founder, Father Joseph Kentenich.
For many members of the Women's branches of the Schoenstatt Movement, Marienland, as their community house, is their second home. Here they can draw new strength for their everyday life at the community days, the conventions of all kinds and retreats. But many other people and groups also come to the Formation Center .It is all the same if they come seeking personal renewal or if they come for schooling—the workers want to help that they feel well and cared for in the house.
A Thank You to the employees
For the sisters of Mary, this celebration is a good opportunity to thank the 30 employees for their service and also share with them something about the spirituality of Schoenstatt and its joy in faith.
Christmas celebration in the Kentenich Year
The Christmas celebration began with a prayer service in the house chapel which was already decorated for Christmas. During this time the employees could bring all their joys and their concerns to the crib and open their hearts for the Christ Child, invite him in so that he can be born anew in their hearts on Christmas. In this Kentenich Year which the Schoenstatt Movement celebrates in commemoration of the 50th anniversary of the death of their founder, Father Kentenich should also "speak" himself to the co-workers. During the prayer service, each one could draw a card with a quote from him. It was astonishing how many said afterwards how fitting this sentence was for their very personal life situation or how through this saying, they received an answer to a question which they had been carrying around for a longer time. For many this actually inconspicuous occurrence was the high point of the celebration.
They were also impressed by the short film about the last three years of Father Kentenich's life on Mount Schoenstatt. For those present, it was especially nice to see how Father Kentenich was there for many people.
Celebrating together – being happy with one another
After so much "supernatural nourishment" it was then time to go to the festively decorated dining room. With coffee and cake and many other good things to eat, there quickly developed lively discussions and employees and sisters visibly enjoyed one another's company.