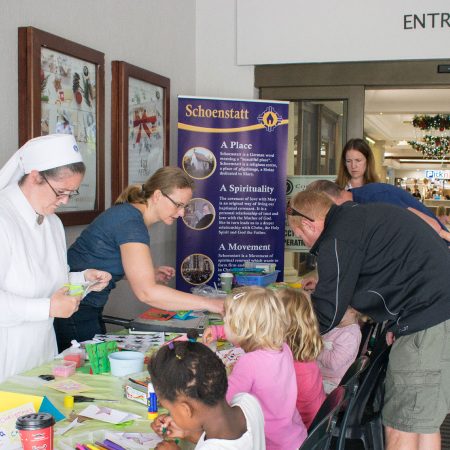 As in many parts of the world, Christmas in South Africa has become very commercialized. It is also the end of the school year and Christmas Day is celebrated in the middle of the long relaxing summer holidays. With these many distractions, numerous people forget about the real meaning of Christmas. The Schoenstatt Sisters have found a novel way to remind people of what Christmas is all about.
Christ in the Mall
Close to the Sisters' provincial house in Cape Town there is a large shopping mall. For the last four years the Sisters have spent Gaudete Sunday there – not shopping but engaging with people who walk in and out of the mall. Members of the Schoenstatt Movement are invited to help out and members of the Women's League and Schoenstatt Girls have taken this on as one of their apostolic activities.
At the main entrance of the mall, tables are set up – on one side for children to join the Sisters in making Christmas cards and on the other, an opportunity to write personal prayers to the Christ Child. Throughout  the whole day, older Sisters take it in turn to come and sit next to the large MTA picture which is placed there for all to see, and to pray for the many intentions people either express verbally or write down. The Sisters and helpers invite anyone passing by to light a candle and write their petitions which are later taken to the Shrine.
The reactions of the people are varied. Some pass by as quickly as possible; others say they will consider the offer on their way out. Many people do stop, curious to see what the Sisters are doing and engage in conversation. Hearts are touched when one listens to the stories of people suffering from cancer and other illnesses or of those who will spend Christmas alone and are missing loved ones. They are all grateful for prayer.
A touching moment
This year we had some special visitors –  David's family!  Last year David owned a coffee shop in the mall and supplied the Sisters and volunteers with drinks and sandwiches throughout the long day. He had  many health problems yet remained joyful and caring. At that time, David enjoyed watching his five-year-old son spend most of the day making Christmas cards. This year he was not there – he had died  during the course of the week, three days before we were there.  His wife came to the shopping mall with her parents and brought her now six-year-old boy. Once again, he wanted to make Christmas cards. While he was doing so, his mother told us that he believed his daddy was an 'angel' in heaven – the card he made had a large smiling angel on it.
Spreading love
Christmas is a time for celebrating God's love; bringing Christ into the shopping mall is one way to do so! Numerous people who came to the mall, went home with a little more joy in their hearts knowing that there are people who care about them and take them into their prayers. Those who simply walked past were reminded of what Christmas is all about – God's coming into our world and into our hearts!