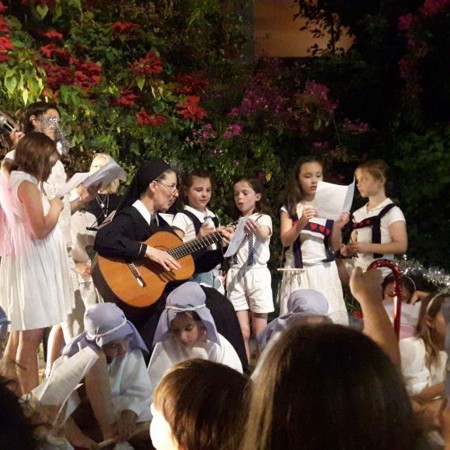 In preparation for the feast of Christmas, a Nativity play took place at the shrine in Belgrano, Buenos Aires, on December 8, 2017. It was performed by children ages 7-11 who had taken part in various workshops of the Schoenstatt Sisters of Mary in the past year. The workshops bore the theme, "Life in Abundance."
Workshops for Children from the Neighborhood
The name of the initiative goes back to the first visit of Father Kentenich on January 14, 1950, to the sisters' house in Buenos Aires, where the Schoenstatt Shrine stands today in the middle of the city. The first words that Father Kentenich spoke at his visit were a reference to the words of Jesus in John's Gospel: "I came that they may have life, and have it abundantly" (John 10:10).
The goal of the workshops on the themes of decorating, singing, and cooking, was to bring the families of the nearby areas into contact with the shrine. The sisters could welcome 25-70 children to each of the workshops. After each meeting they went to the shrine in order to visit the "owner of the place": the Blessed Mother. They sang a few songs there and prayed a short prayer. A few children who had won recognition were permitted to ring the bell. This was the best prize for them.
Nativity Play as a Solemn Closing
The Nativity play on December 8 was the solemn closing event of this year's meetings. After holy Mass, the children, dressed in white robes, formed a living nativity scene next to the shrine. They sang Christmas songs that they had practiced. Many of them could play the recorder, so they formed an orchestra with the instruments that they themselves had made in the workshops. One of the children played "Silent Night" on the violin. At the end the parents received "little messages" in the form of a quote from Father Kentenich, and the children received candies. The encounter ended with the song "Silent Night," sung by all the families present.