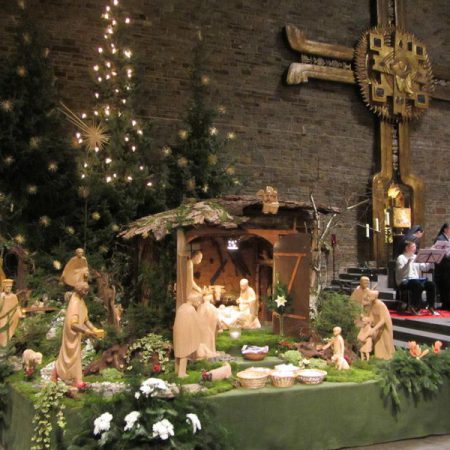 "All people may come to you." This line of a Christmas song that is sung anew every year at the "Ten Minutes at the Crib" in the Adoration Church on Mount Schoenstatt, Vallendar, is characteristic of the event: Each year, thousands of people follow the invitation of the Schoenstatt Sisters of Mary to the founding place of the community in order to spend some time with the Child in the crib in the atmosphere of Christmas songs and texts. All children present are invited to join in the event dressed as Mary and Joseph, shepherds, stars, or kings. This year the "Ten Minutes at the Crib" will take place in Schoenstatt from December 26, 2017 until January 8, 2018.
Photo Impressions from "Ten Minutes at the Crib" in 2016:
Please accept YouTube cookies to play this video. By accepting you will be accessing content from YouTube, a service provided by an external third party.
If you accept this notice, your choice will be saved and the page will refresh.