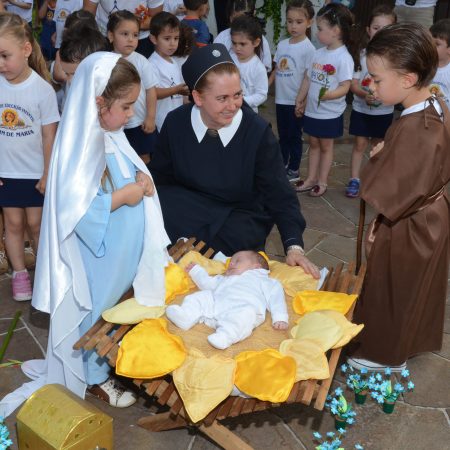 The birth of Jesus reveals to us the mystery of God's love for us human beings and especially for the littlest ones. At "Jardim de Maria" (Mary's Garden) Pre-School, of the Schoenstatt Sisters of Mary in Santa Maria, Brazil, this mystery became newly experiential at the Christmas celebration on December 6, 2017.
"I Want to Be Mary!"
Like every year, the celebration took place around the Schoenstatt "Tabor" Shrine, where the families of the children gathered. All 12 groups, from the nursery to the pre-school, presented the birth of Jesus in a nativity play with symbols and songs in Portuguese, Spanish, English, and German.
At the first rehearsals for the Christmas celebration, Sister M. Jéssica told little 5-year-old Alice that she had been chosen to play the Blessed Mother. Surprised, Alice replied, "What? I will be Mary?" The sister confirmed, "Yes, and your little brother will be Baby Jesus." As if she had received the greatest news ever, Alice joyfully jumped around by the shrine, hugged whomever she met, and cried out, "I'm going to be Mary!" On the day of the performance, she was the first one to put on her costume. It was moving to see how this little Mary cared for her little Baby Jesus in such a motherly way.
Jesus Knocks on the Door of Each One's Heart
A further happening took place with a child who had played an innkeeper. As a 4-year-old boy heard the sister telling about Mary and Joseph knocking at the doors in vain, he worriedly asked, "Will they also knock at my father's door?" The sister answered, "Yes, he knocks at the door of each person's heart." He thought about it and then posed a further question: "Will they also knock at my mother's door?" As he also received a positive answer to this, he was happy and made even more efforts to play his role in the performance well.
The Manger is Prepared
The day after the celebration, the children discovered a manger prepared in the school. A two-year-old boy came in and looked at the manger. As he saw that Baby Jesus was not there, he spontaneously asked, "Where is Baby Jesus?" Even though he was still so small, he knew that Baby Jesus couldn't be missing, and so showed that he had grasped the true meaning of Christmas.
Mary and Joseph knock on the door of our hearts again this year, too. Like the children, we, too, want to welcome them and prepare ourselves for the birth of Jesus in our families.