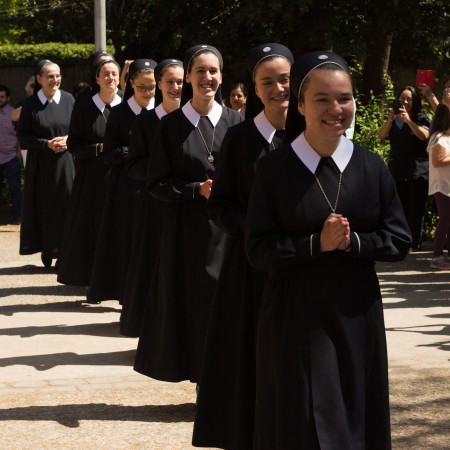 On Saturday, November 25, 2017, in Santiago Chile, seven novices received the dress of the Schoenstatt Sisters of Mary. Through this they express that from then on, they want to bring their undivided dedication to God after the example of the Blessed Mother and in the service of the mission of Schoenstatt and the church.
The novices radiated with joy in this decisive moment in their personal life stories, for they are aware that they have been chosen for something great. Their families and the Schoenstatt Youth from Chile, Costa Rica and Ecuador participated in the celebration with enthusiasm and joined in the joy about the gift of vocation for these young women to Schoenstatt.
In keeping with tradition, the seven novices dressed in white bridal dresses went in procession to the Holy Spirit Church. During the Eucharistic celebration they received the Marian dress from the hands of the Auxiliary Bishop Jorge Concha. As Schoenstatt Sisters of Mary they went after Holy Mass to the shrine in order to dedicate themselves to the Blessed Mother there.
Who are the novices?
Sr. Maria Camila (Camila Salinas) from Temuco
Sr. M. Blanca (M. Magdalena Edwars) from Santiago
Sr. M. Agustina (Agustina Gongora) from Vina del Mar
Sr. Maria Teresa (Maria Luisa Carabantes) from Vina
Sr. M. Laura (Camila Rozas) from Santiago
Sr. M. Catalina (Trinidad Avendano) from San Fernando
Sr. Maria Fabiola (Fabiola Maria Fernandez) from Costa Rico
We accompany the novices with our prayers so that their vocation will be fruitful for the mission of the Blessed Mother from the shrine.
More photos of the reception in Chile