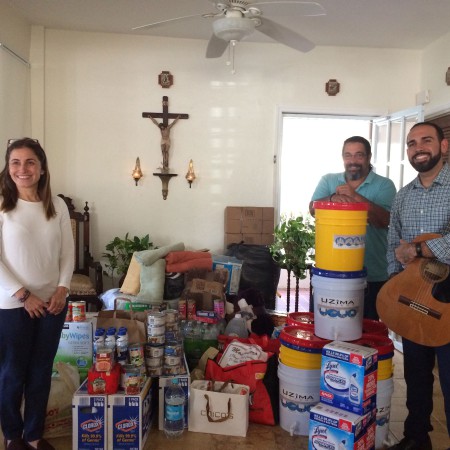 "On September 20th the world we once knew disappeared… Houses crumbled, roads disappeared, entire towns were flooded by rivers, and mudslides isolated parts of our interior. No power, no water, no communication… We wait in line eleven hours just to buy ice in order to keep our neighbor's medicine cold," as Maria Rangel reported in the Puerto Rican newspaper El Nuevo Día on October 3, 2017. These words provide a glimpse into the "destruction without mercy" that Hurricane Maria inflicted upon the island of Puerto Rico. During the hurricane, and in the months that have followed, the Schoenstatt Sisters of Mary in Puerto Rico have had ample opportunity to assist our Mother Thrice Admirable, Queen, and Victress of Schoenstatt as she draws her mantle of mercy upon Puerto Rico and its people.
Providing Disaster Relief
People could take refuge at our center during the hurricane, including an extended family with a two-year-old child and grandparents. Because we have our own well and water purification system, we could provide safe water when water sources became contaminated due to soil erosion caused by the mudslides in the mountains. We brought a substantial hot meal daily to elderly people in our neighborhood. As roads cleared and it was possible to purchase sufficient gasoline to do so, we helped distribute relief supplies to those in need, especially to people in the mountains. Supplies included water, food, products for hygiene, over-the-counter-medications, flashlights, batteries, small kerosene and gas burners for cooking, clothing, insect spray and repellent. It was our greatest joy to serve a breakfast to 500 students at a branch of the Catholic University, because many students did not have the resources to eat a good meal each day.
The Schoenstatt Shrine as a Place of Spiritual Refuge
In addition to helping people receive food, clothing, water, and shelter, we are able to offer a place of spiritual refuge. Our Schoenstatt Shrine and our dear MTA have become a fountain of strength. Some people come with tears; others in silent sorrow. People who were worried about loved ones with whom they had no communication for weeks entrusted their family members and friends to Mother Mary. A lady who was one of the first to traverse the damaged mountain roads down to our shrine prayed to the Blessed Mother to help her obtain supplies for her people because they, in desperation, were drinking unsafe rain water.
"An Advent of Hope"
On Saturday, December 2, 2017, more than 100 people took part in a day of recollection at our shrine with the theme: "An Advent of Hope." Sister M. Elena Lugo was the main speaker and offered a reflection on hope in times of despair.
Now, almost three months after Hurricane Maria, many still suffer and bring their sorrows and difficulties to our shrine. At the same time, many come with hearts full of thanksgiving for the miracles the Blessed Mother has worked for them and their families. The Schoenstatt Sisters of Mary in Puerto Rico are also grateful to be able to help the Blessed Mother from her "Shrine of Solidarity" to accompany many people both materially and spiritually. Sister M. Sophy Ann Rivera summarized the experience, saying, "It is a blessing to be able to live in deep solidarity with the people of my country."