Karl Leisner
Victor in Vinculis Mariae
Biographical notes
Born on February 28, 1915 Rees, Niederrhein,
died on August 12, 1945 Planegg near Munich.
Karl Leisner was ordained a deacon on March 25, 1939 in the Cathedral of Münster.
His priestly ordination was on December 17, 1944 in the Dachau concentration camp.
Karl was a youth leader and diocesan youth leader, theologian, deacon, priest and martyr.
His beatification process was
started on March 15, 1980 in Münster and
completed on September 30, 1982.
On June 23, 1996 Karl Leisner was beatified as a martyr by Pope John Paul II in Berlin.
Spiritual profile
Karl Leisner grew up in a religious home on the Lower Rhine. He was involved as an enthusiastic leader in the Catholic youth movement, regardless of the difficulties that this brought with it in Nazi Germany. Shortly before graduating from high school, Karl came in contact for the first time with the MTA in the shrine and the spirituality of Schoenstatt at a school meeting at Easter 1933. He recognized his commitment as a youth leader as an apostolic vocation: he wanted to be a leader for youth as a tool of Christ and as a companion to Christ.
Again and again he spoke of this "magnificent school meeting in Schoenstatt, to which I owe so much grace and vocation" (1939). – "I have made so many beautiful and good resolutions and plans there" (1933).
As a young adult he discovered Schoenstatt's pedagogical path for his self-education in the service of the apostolate.
From the very beginning he worked actively in a theologian's group under the direction of Heinrich Tenhumberg, later Bishop of Münster. This fellowship with priests of the apostolic Federation of Schoenstatt, being together in prayer and in action for one another, became his security, his inner home until the last hours of his life. Their group ideal revealed his path of suffering in the light of his priestly vocation. He chose it as a motto for his First Mass card: "Sacerdotem oportet offere" (The priest must sacrifice).
His Dachau Schoenstatt group created a picture with this motif: bound priest hands raising the chalice, in the background a gothic arch that at the same time reminded them of the shrine of the MTA in Schoenstatt. Here Karl Leisner had placed the Fiat of his total surrender in the spirit of Blank Check, "nel spiritu del schecco bianco", as he humorous disguised it when writing from prison. He placed it in the hands of the MTA and joyfully redeemed it in martyrdom.
Relationship with Fr. J. Kentenich
It is astonishing that Karl Leisner probably did not have a direct personal encounter with Fr. J. Kentenich. Conferences and retreats that he attended were held by other priests. In Dachau, Karl Leisner had to move to the infirmary two days after the arrival of Fr. J. Kentenich.
Nevertheless, both knew and appreciated each other. The group work in his priesthood and Dachau group was entirely inspired by Schoenstatt's spirit and took up the impulses that Fr. J. Kentenich offered for the year's work and the feasts of the liturgical year. Karl lived from the current streams within the Schoenstatt family and carried them within himself. He maintained monthly contact with his Federation course even under his particularly difficult conditions in the infirmary of the Dachau concentration camp. Precious to him were the beautiful little Hours for the day which Fr. J. Kentenich had composed at the suggestion of his Dachau group, and which he had given to Karl's group. These prayers accompanied him until he died.
For the dedication ceremony of his Dachau group with the ideal "Victor in vinculis Mariae" on December 8, 1944, a ceremony for which Karl Leisner could not be present, Fr. J. Kentenich gave them two poems of forty-eight quatrains, for which Karl thanked him in a letter. Fr. J. Kentenich interpreted in this context their difficult camp situation in the light of the Victor ideal in a covenant with Mary: The shackles of all kinds become "love-Vin-cula", bonds of love: "With Jesus and Mary become the Victor, that is our goal in the struggle for life on earth."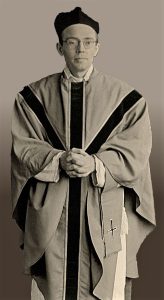 For the ordination and first Mass of Karl Leisner, Fr. J. Kentenich dedicated some personal lines of poetry, which Father Fischer wrote on the back of a picture showing the interior of the shrine in Schoenstatt:
"As a priest, the Lord has chosen you;
through you wants to go blessing through the world.
He wants to sacrifice, pray, love, suffer,
and graze his sheep here on earth.
At your side he has given to you the mother
who has accompanied him throughout his life.
She will remain faithful to you in all circumstances.
She helps you to carry the load and burden joyfully,
directs your and the pastoral children's paths
towards the shores of a blessed eternity.
                                                       Sunday Gaudete 1944"
Fr. J. Kentenich knew Karl Leisner was cared for in a good and loving way by his priestly friend, Fr. Otto Pies S.J. In answer to a question later on as to why there was no closer contact between him and Karl Leisner, he explains in a letter to Fr. Josef Fischer: "… but do not hesitate to acknowledge with great admiration, with what untiring care and loyalty Fr. Pies endeavored to care for our Federation priest up to the end of his life. … If we Schoenstatters did not follow in his footsteps in Dachau, it was mainly because we knew the patient was safe and secure, and the law of division of labor pointed us to many, many other fields of work "(J.K. 1954)
Quelle: Margareta Wolff, Ihre Herzen haben Feuer gefangen, Schönstatt 2008, ISBN 978-3-00-026075-9