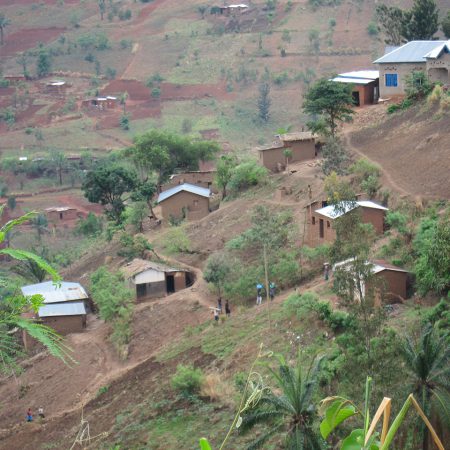 One of our concrete projects in Burundi consists in literally giving people a roof over their heads. Time and again there are homeless families before us: Returning refugees need a new home; others have lost their homes through storms.
In Burundi the houses in the country that are made from clay tiles are still often covered with bush grass. Bush grass roofs look much nicer than corrugated metal roofs. These natural roofs, however, usually begin to leak already after a short time. Storms or fires make the families homeless. The poor who live in the country, as well as the refugees, do not have the financial means to rebuild, since even bush grass has become expensive. Corrugated metal is the best option for a speedy and lasting solution. Having a house of one's own with a firm, impermeable roof gives a sense of a  true, stable home. There the families can experience shelter and cohesion, and healthy life conditions for the children can be created.
With the help of donations we have already been able to obtain such a weather-resistant roof for many people. This support is for them a sign of God's love. Through it they experience very concretely: As a worldwide family of God we are united with each other.
Sister M. Lisette writes: In our region many huts collapsed during the rainy season. We supported several suffering families so that they could rebuild their huts. One boy from a family of five children brought us a letter afterwards. He thanked us that they could now live in a hut that doesn't leak when it rains anymore. At the same time he asked us also to help other people who are as poor as they are. When he handed us the letter, he told us that the night before, when there were heavy rains, he got up and thanked the dear God for giving the benefactors who had built their house such a good heart for the poor.
A sheet of corrugated metal costs about 8 euros. For one house an average of 30 of these sheets are needed.
Project ID: Wellblechdach Burundi
Mission Center of the Schoenstatt Sisters of Mary
Berg Schoenstatt 6
56179 Vallendar
Phone: (0261) 6404-311
Email: missionszentrale@s-ms.org
Beneficiary Bank: LIGA Bank eG
IBAN: DE10 7509 0300 0000 058920
Swift Code/BIC: GENODEF1M05