THE ASSUMPTION OF THE BLESSED VIRGIN MARY
AN ELOQUENT SIGN OF HUMAN DIGNITY
On November 1, 1950, Pope Pius XII solemnly proclaimed the dogma of the Assumption of the Blessed Virgin Mary into heaven with body and soul. It is a mystery [of our faith] that points to the dignity and supernatural destiny of each human being called to share in the glory of God.
The dignity of the human person
We live in a world that disregards in countless domains the inalienable dignity each person possesses. In 1949, in a talk that Father Joseph Kentenich gave to the Schoenstatt Sisters of Mary the day after the Feast of the Assumption of the Blessed Virgin Mary into Heaven, he affirmed this truth.
"… The Assumption of the Mother of God. We are reflecting on the assumption of a human being and therefore of the greatness of the human person. She could not tell us anything more beautiful. On the one hand, the present time wants to crush the human person, to make the human being a piece of a machine, and [on the other hand] our Lady is telling us how great the human being is according to the dignity and being of a human person."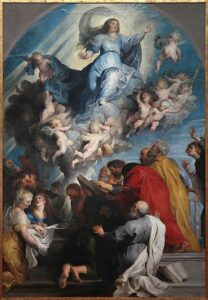 We are called to heavenly glory
The Solemnity of the Assumption of Mary into Heaven reveals to us that the dignity of the human person has its source in freedom and is unfolded in unrestricted surrender to the will of God. At the hour of the Annunciation, the Blessed Virgin Mary used her freedom and gave herself completely and without reservation to the One who could do great things in her and who also did do great things in her. God raised her above every creature and granted her to be in his presence with body and soul.
Every person is called to this same glory. It is our task, like the Blessed Mother, to give ourselves unreservedly to God who can accomplish great things in us as he did in her. He can restore human dignity in us and in the entire world of today.