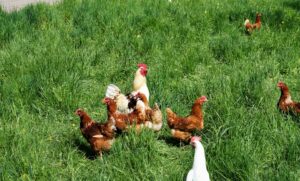 Like a CHICKEN?!
Have you ever thought about chickens? 
Maybe you have some of your own! We love the good eggs that we get from them! But have you ever watched a chicken drink? It dips its beek deeply into the water. Then, with its beek filled it quickly raises its head and the water runs down its throat. Father Kentenich observed this—and gave us this tip: We can learn from the chickens how we can deepen our relationship to God.
He said: "May I repeat my suggestion that when you are in your car, sitting in your car, or otherwise going some place, try for at least five to ten minutes every day, to ponder everything that our dear God gave you yesterday and the day before. So, in practical terms, this means that every day you put yourself in the role of a chicken. You know what the chickens do when they take a drink. First, the head goes down for a moment, but then up! So therefore: Our entire life long we  should all become little chickens during the day ."       (Am Montagabend, Bd. 3; S. 275 und S.249)
What does it mean, to become a "little chicken?"
 When something happens to me, an event, a surprise, I first lift my head up toward heaven and ask myself: Dear God, what does this mean now?
Something unexpected happens—
I experience something wonderful–
A colleague gets on my nerves–
The pandemic doesn't end –
I get mail that makes me truly happy–
I try to process everything that touches me positively or negatively during the day with God, with my You, with whom I maintain intensive contact, to whom I can tell everything.
React like a chicken: Something is coming – quickly put your head up and ask the good Lord: Please tell me what this means.

An example from everyday life
Today – a feast day – I felt the need to take some time already in the morning for adoration in the Schoenstatt Shrine.  First I had to finish a few things, this and that came up. As I was about to leave, I remembered something I had forgotten. The clock was ticking and finally I decided to have my adoration at noon.  About 10 minutes later the telephone rang. It was a co-sister, I had told her I would be back home today and could be reached. The first thing she did was to thank me for taking the phone right away! If I had been out of the house, she probably would have been very annoyed. I interpreted this little experience as God guidance – HE had my fellow sister in mind and made sure I was present and available at the right time!
"I have raise my head now. I have to ask in the light of faith, dear God, what are you actually trying to tell me through this? Now you have to think about what is trying to tell you ?" (ibd. S. 163)
Ponder
When – where – can I take a little time today to answer this question for myself?