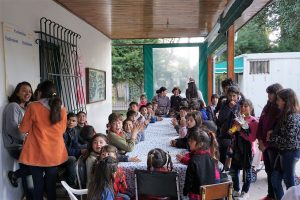 The task of our social center "La Nazarena" is to pick up the poorest families and give them impetus to change their lives. Our work covers three areas: health, education and professional skills.
Our name: "La Nazarena"
"La Nazarena" seeks to convey an experience of communion in which Christian values ​​are lived. People should experience their dignity, be accompanied and encouraged. We want them to bring home all that they experience in our center and slowly change the realities in their life.
Current services
Currently about 140 people come to us from Monday to Friday. At 1:30 the children and their families will have lunch, then we will start our work: tutoring, sports, handicrafts, gardening, participation in the school orchestra of Florencio Varela, preparatory work for entrance into the working situations, cooking school, computer courses, hairdressing training. There are also opportunities for intellectual or spiritual development. With the help of donations we also offer free places for high school and university studies.
The area of ​​health also plays an important role. We consulted dietitians to develop a lunch and afternoon coffee menu to help prevent or overcome malnutrition in childhood. That is why we also offer a corresponding specialist consultation, which is taken over by doctors who hold weekly voluntary service hours in our center. We also have rooms where three psychologists and two psycho-pedagogues work with mothers with their children.

Future plans
The needs of the people who come to our center are numerous. One of our big concerns is to install showers for them. Most do not have the appropriate facilities in their homes and cannot take a bath at home, something that is vital in our climate.
It is also one of our goals to set up more office hours so that dental and eye treatments can be carried out here as well.
There is an urgent need for rooms for babies and toddlers, because so far we have only one room for 40 children! We dream of creating a separate area for them with two rooms and a toilet.
Lasting challenges
One permanent challenge is the whole area of ​​pay for coordinators and teaching staff, as well as the costs of insurance, electricity, gas and security. Likewise, we constantly need the means to buy the various materials in the workshops and everything necessary to maintain the dining room.
The maintenance of the center is possible due to the generosity of private donations and the help of some concrete companies. We would like to invite you to participate in "La Nazarena".
At $ 10 a month, you can help a boy learn a craft.
With $30 we can feed a child for a month.
With $ 100 we can provide a whole family with the necessities for one month.
In advance, our warmest thanks!
Password: La Nazarena Argentina
Mission headquarters of the Schoenstatt Sisters of Mary
Mountain Schoenstatt 6
56179 Vallendar
Tel .: (0261) 64 04-311
E-mail: missionszentrale@s-ms.org
Bank details: LIGA Bank eG
IBAN: DE10 7509 0300 0000 058920
BIC: GENODEF1M05