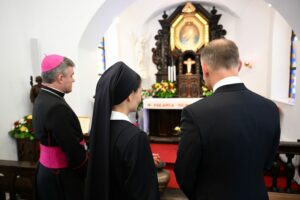 Andrzej Duda, President of the Republic of Poland,
Visits Chełmska Hill and the Covenant Shrine
On Monday, May 29, 2023, the Feast of the Mother of the Church, we received an
extraordinary pilgrim, Mr. Andrzej Duda, President of the Republic of Poland,
to Chełmska Hill and to the Covenant Shrine.  The president came in the afternoon. Bishop Zbigniew Zielinski and then Sister M. Elwira, and Sister M. Joanna, as the superiors of the filiation, gave a brief welcome at the base of the hill, the president placed a flower wreath at the memorial calling to mind previous visits of presidents of Poland–Lech Kaczyński und Ryszard Kaczorowski— to Chełmska Hill and to the Covenant Shrine.
Like a true pilgrim, President Duda did not ascend the mountain by car but walked to the shrine. During this time, Sister M. Elwira had the opportunity to tell the president a little about our mission. The other sisters and invited priests waited in front of the shrine. After brief prayers in common and then personally, and after venerating the relics of St. John Paul II, President Duda signed the commemorative book and thanked for our hospitality and kindness—as he wrote:
"for the support of Polish women, for whose dignity and well-being the sisters work
with extraordinary sensitivity and strength."
Then he gave a gift for the Covenant Shrine: three beautiful candles for the altar. We, in turn, gave the president a hand-decorated covenant candle and a large MTA picture that the president reverently kissed.
The final and, at the same time, most important part of the visit was the awarding of the Commander's Cross of the "Polonia Restituta" to Auxiliary Bishop Edward Dajczak. Because the ceremony took place on the plaza of our newly built Pilgrim Center, the president took interest in the work in progress and walked the longer way back so he could look at everything more closely.
After a brieandange of departing words, the president's request for our prayers, and our assurance of them, a convoy of black limousines drove over the hill as officials in the government of  our country and in our local government waved good-bye.
We hope this visit of the president to our Covenant Queen strengthens our president in his difficult service to our homeland and perhaps will inspire visits to other Schoenstatt Shrines in Poland.