Interview with
Sister M. Anne-Meike Brück,
Manager of the
Marienland Conference Center
For more than 40 years, Schoenstatt Sisters of Mary have been living in their province house, Marienland. Together with the Women's Branch of Schoenstatt they decided, during the lifetime of the Founder of Schoenstatt, Father Joseph Kentenich, to build a large convention center on Mt. Schoenstatt, Germany. On February 1, 2023, Sister M. Anne-Meike Brueck took over management of this large convention center with over 100 beds and many conference rooms.
Sister M. Anne-Meike is not unknown in Vallendar and the surrounding area. From 2004-2016 she led groups of pilgrims in the valley of Schoenstatt and beyond. In addition, she is a co-founder of the Sign of Light, a center for pregnant women. In the following interview she gives us a glance into her new position at the convention center.
You have known Marienland for many years and are working there now in a new capacity. Can you tell us what makes this convention center special?
Anyone who walks or drives to Mt. Schoenstatt for the first time will be amazed to discover how many buildings there are. These houses and the church, designed with symbolic radiance, were built, by the way, by the internationally renowned architect Barron von Branca. They are highly visible and blend harmoniously with the beautiful nature that surrounds them. At the very top, as the last house built in front of our organic farm, is our convention center. That in itself is quite remarkable; high on the mountain, it is couched in an unspoiled landscape including the valley below. That defines our Marienland Convention Center: A view to the past changes you. New perspectives become visible. The highly symbolic architecture receives the visitor with open arms, because the guest-wings of the convention center–projecting outward–are designed that way. It is highly symbolic of the hospitality given to our guests and our openness to them. And that is what is providing us orientation for the future.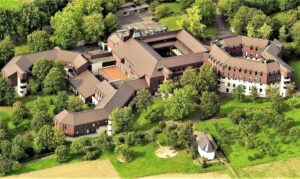 The atmosphere—created by the prayers of the sisters, the radiance of our Schoenstatt shrines, and the dedicated commitment of our employees— allows our diverse guests and groups the freedom they need to conduct their seminars and meetings and to care for their personal concerns.
For all the optimism evident in your words, do you see actual signs of a good future for the center in a time when many convention centers are closing and Schoenstatt centers are facing numerous challenges?
It is true; the challenges are great. We also have challenges related to personnel and finances. The needs that organizations have are increasing in many respects, and the financial resilience of some groups has decreased. This is due, among other reasons, to the coronavirus pandemic and the consequences of it. We are in the process of targeting new groups to use our facility. We would like to be a center that is of interest to everyone, also those in financial need. Our Schoenstatt centers, as safe harbors with a good spirit, provide great opportunities to exemplify for others how to live a life based on Christian values. We want to reunite what is threatened ever increasingly in society because of dissolution; that is, meeting people in their uniqueness as related to nature, art and culture, supernature and grace. If we rediscover this for ourselves at our convention center, then others can discover it also. That is exciting.
What you have expressed is a vision for the center. But the question arises whether that is a pious assumption of yours or whether there are small indications that such a development is possible.
The fact that we are even talking like this is a first sign. We want to link the encounters that we sisters already experience in everyday life to our visitors and guests. After all, we live in a large building where sisters and guests encounter each other and that is something very special for both sides.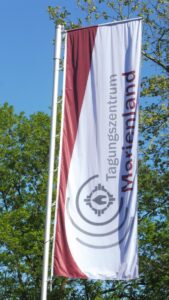 The ability to change begins with our self-understanding and the vision we are attempting to realize from here. Actual change will follow. We have taken some initial steps at our convention center. An inspiring conversation with our employees took place and more and more they are coming on board. We are our intensifying public relations and are basically working out strategies. The events that we will offer will take up major issues of our time.
The focus will be on the individual, his or her mission to take responsibility for good interpersonal relations and to help shape our society in a positive way. These are things that not only make us Christians, but distinguish us as Christians. That corresponds to the mission of Schoenstatt. I am confident [of the future].
 It's a fact already that MARIENLAND stands
for better relationships between people and
a better relationship between heaven and earth.
For further information: www.tagungszentrum-marienland.de
The questions were asked by Christopher Adlung, Honorary Spokesperson of the Maximilian Reinelt Center