For over 25 years the Pilgrim MTA of Schoenstatt has been visiting families in Switzerland. Currently, SHE is on the road in about 900 Pilgrim MTA little shrines.
Experiences and photos from the year 2022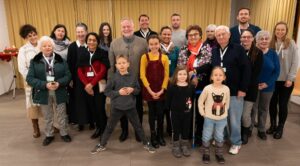 It simply helps me when her gaze rests upon me
Last night the Pilgrim MTA came to us and I am so happy that she is here. Since yesterday I have been experiencing a certain restlessness, worrying about things. The Blessed Virgin Mary knows what it is like when a mother suffers. I like to come to her again and again because it simply helps me when her gaze rests upon me. How nice it is that she will be here until Sunday evening. E. B., 2022
A gap in a Pilgrim MTA circle
We are happy that the Pilgrim MTA always comes to our family. We feel blessed through her. Recently, I had to find a replacement for a person in a Pilgrim MTA circle. I told the Blessed Mother that I would ask the next person whom I met. And, lo and behold, the person agreed and enthusiastically joined the circle. M. K., 2022
Angry daughters…
A contact person phoned the office of the Pilgrim MTA in Quarten, Switzerland to tell us that most of the participants of her Pilgrim MTA circle no longer wanted the Pilgrim MTA to visit them. Therefore, she was returning the image of the Blessed Virgin Mary. A few days later she phoned again and reported that her daughters (ages 21, 17, and 14) were very angry when they heard that she was going to send the Pilgrim MTA back and that the Blessed Mother would no longer be coming to them, because they pray the rosary every day before the image of Our Lady. They didn't understand why the Blessed Mother would leave. Especially now in these times of crises they need her. They told their mother that she should phone Quarten again and ask if they could keep the Blessed Mother. And so, the Pilgrim MTA is staying with them until further notice.  X., 2022
In the city with the Blessed Mother
It was the first time I visibly (!) carried the Pilgrim MTA when I was in the city. My encounters with people were livelier; people were more open. It was as if the Blessed Mother was carrying me and she was reminding me that I was a little bit like HER when she traveled to Elizabeth. When I entered a restaurant, the manager greeted me. I placed the Pilgrim MTA where he indicated. While I was talking to him a large group of tourists passed by and suddenly–as if drawn by the Blessed Mother—they decided to enter the restaurant and dine there. Thank you, Blessed Mother!  Y., 2022
Watching him play
Whenever the Pilgrim MTA visits us, our little boy asks us to put the Pilgrim MTA on the floor so that she can watch him play. Once, when we were on vacation, we couldn't receive the Blessed Mother during our usual time. I have to say, that our family missed the Blessed Mother very much this month. I.D., 2022

Not alone while dying
My husband belonged to a Reformed Church and had a good relationship to the Mother of God. I knew that and, therefore, I gave him a little Pilgrim MTA. Several times he had to go to the hospital and each time I asked him: "Do you want to take the Blessed Mother with you?" He always answered, "Yes, I'll put her on the nightstand." Unfortunately, my husband died during the coronavirus pandemic.
This was very difficult for me because I was not allowed to enter the hospital and he had to die alone. I think it was difficult for him, too, because he felt abandoned and gave up. A phone call that I received from the hospital brought me consolation. A nurse asked me what my husband would want with him in the coffin. Should she place into it, for example, the image of the Blessed Mother from Quarten that he always had on his nightstand? With great joy I said yes, and so it happened that the little Pilgrim MTA was put into his hands. This was a consolation for me and a sign that my husband didn't die alone, that the Blessed Mother accompanied him and led him home.  IT.S., 2022