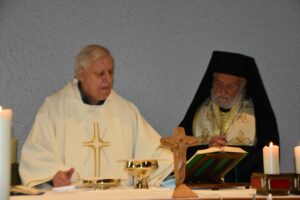 The relief organization "Aid to the Church in Need (ACN)" invited
Emeritus Patriarch Gregory III Laham from Damascus
to Switzerland. For seventeen years, Gregory was responsible for the fate of the Melkite Greek Catholic Church in Syria, which is united with Rome. Through contact with our house chaplain, Schoenstatt Father René Klaus, it was possible for Patriarch Gregory to celebrate a holy Mass with us Sisters of Mary in the house chapel of House Schoenstatt in Brig. A small community of interested people gathered for this Mass, which was embellished by a musician playing the violin.
Hope and Confidence despite Persecution
The 89-year-old patriarch impressed us with his youthful and wide heart. With extraordinary vitality, he described the situation of the Syrian Christians and shared about the good cooperation between Muslims and Christians. Although many Muslims are very fond of Christians, they have no chance to profess the Christian faith or to convert.
Despite the persecution and suffering of Christians in Arab countries and in the Holy Land, the patriarch radiates hope and confidence. One senses his secret – his deep and intimate attachment to God. Among other things, he referred to words of Pope Francis:
"It is not necessary to go to the catacombs or into the Colosseum to find the martyrs. The martyrs are living now, in numerous countries. Christians are persecuted for their faith. In some countries they are forbidden to wear a cross; they are punished if they do. Today, in the 21st century, our Church is a Church of martyrs."
Meeting with Sisters of Mary
After breakfast, an interview with Radio Maria, and a visit to the Simplon Pass, the patriarch and his entourage arrived in time for lunch. It was important to him to hold a short meeting with us Sisters of Mary before that. His open, simple manner made it easy for us to talk with him right away.
After lunch, he visited the Schoenstatt Shrine with the name, "Source of Living Faith." There he spontaneously sang the song "We Fly to Your Patronage" in Arabic. After a short time of prayer, he signed his name and address on the list of petitioners for the beatification and canonization of Father Kentenich and requested a novena to Sr. M. Emilie. Then he made an entry in the pilgrims' book. At the end of his visit to the shrine, he was asked to bless the holy water. After a photo opportunity, we thanked him for his visit, and the patriarch continued his "Tour de Suisse."
With his visit, Patriarch Gregory newly strengthened our awareness of the need to pray more for persecuted Christians and thus show them that they are not left alone in their distress.