It was ten years ago…
I am on the road with the Pilgrim Mother in the Principality of Liechtenstein. There are currently eight pilgrimage shrines in this country. In Vaduz my gaze falls on the castle. To the Blessed Mother I silently say: "How about if you visited the royal family at the castle?!" What a crazy idea, I think. Nevertheless: I brake, get out and put the pilgrim shrine on the roof of my car. Then I take a photo towards the castle. That was ten years ago!
The Pilgrim Mother is one of the elect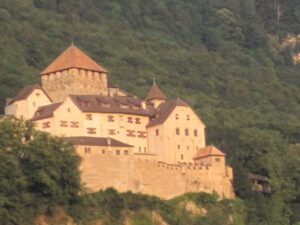 Two years later we received an invitation to the castle in October. The crazy idea becomes reality! Sr. M. Olgi Quaderer, a Sister of Mary from Liechtenstein, had offered the Hereditary Princess Sophie of Liechtenstein that the Pilgrim Mother would also come to the castle residents. Hereditary Princess Sophie is extremely open and interested in the project "on the way to you"/pilgrim shrine. She wishes the Pilgrim Mother to visit the castle residents too. Letters and phone calls go back and forth – because you can't just go to the castle; only a few are allowed in. But: The Pilgrim Mother is one of the chosen ones – a great joy and honor.
Moving into the castle
We – that is Sr. M. Olgi (with the white blouse), her mother and I – are allowed to accompany Mary. We pick them up at the Schoenstatt Shrine in Quarten and drive to the castle in Vaduz. The porter opens the gate for us. We can enter the castle courtyard over the wooden bridge. We are expected by the princess and the hereditary princess. They take us to their library. We put the pilgrim shrine in a niche, together with a small Liechtenstein flag.
The country with the most pilgrimage shrines?!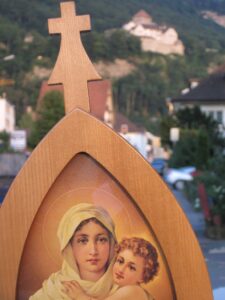 Together we hold a simple, impressive broadcast ceremony. We light lights for everyone who receives a monthly visit from the Pilgrim Mother at the castle. It goes without saying that Hereditary Princess Sophie is available as a contact person. We may hand over the pilgrimage shrine to her. She accepts it gratefully and joyfully.
It is the 13th image of the Schoenstatt Virgin Mary that wanders in the Principality of Liechtenstein. Today – 10 years after the crazy idea – 54 pilgrim shrines are on the way in the small country of Liechtenstein (38,750 inhabitants). Perhaps it is the country with the most pilgrim shrines – one image for every 717 people!