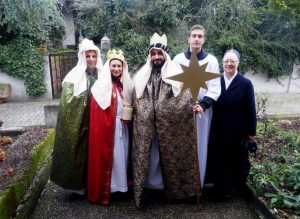 At the "Shrine of Joy" in Herxheim they saw it appear. But the story began much earlier.
Their very special place
When the great wave of refugees came to Germany, the Blessed Mother led the first Iranians to us. Two of them wanted to become Catholic and were baptized in the parish church at the end of 2016. Their very special place, to which they come in joy and sorrow, is the Schoenstatt Shrine and Mary has helped them so often. They have told others about it, and so during the summer a whole group of 6 baptismal candidates came together. For many of them Mary is a very important person who leads them to Jesus and accompanies their steps.
At the beginning of the new ecclesial year there was their official admission to the catechumenate. Sister M. Charissa works together with Sister M. Gerta in the Schoenstatt Center. She is also part of the pastoral team of the parish and her work with refugees is one of her tasks. The group not only meets regularly for classes in the Schoenstatt Center. There the celebrations of the ecclesiastical year are celebrated together and a Visiting Pilgrim Shrine also travels among them.
Theme manger in the Christmas season
One of the themes during the Christmas season was the manger. Surprisingly, two families donated a complete crib, so that two apartments could set up their own.
One theme was about the shepherds and kings who made their way to the manger. Scientists believe that Persian or Chaldean astrologers could be meant. Therefore, this was a special and important topic for the Iranians. Some of them have also come a long way in their search.
At some point the idea came up to concretely participate in the action of the carol singers in the parish, for which Sister M. Charissa is jointly responsible. Suitable robes were found. The four carol singers mastered the challenges of the German language – three of them speak good German – and on January 11, 2020, at 9:00 a.m. sharp, the group started in Insheim.
"Real" kings on the road
Quite a few people were amazed when they opened their doors and saw these "real" kings in front of their door. Many a good conversation arose. The catechumens got to know German families and also heard about their worries:
– A woman told them about her mother, who will be buried on Monday,
– someone else was waiting for a grandchild to be born,
– another person spontaneously invited her on the street to come to her house as well. She needed  blessings for herself and her sick husband.
– Something special was the visit to an old sick Schoenstatt Mother who has been praying for the Baptism candidates every day for a long time. A photo was taken with her and Mrs. D. was radiant in her wheelchair.
– A married couple said:
"You always hear negative things about foreigners and refugees.
To experience them here is something completely different. Thank you for coming to us."