It begins with the education of the new man.
"We are a Catholic and markedly Marian school, based on ethical and Christian values, educating responsible citizens who are aware of their role in society, preparing students for life," says the director of the College Mãe de Deus (Londrina – Paraná / Brazil), Sr. Rosa Maria Ruthes, very courageously at the beginning of the school year, in February 2019.
For the past seven years she has been leading the first school in the world that systematically applies Schoenstatt education from elementary school to high school graduation. Thus, the headmistress continues a story that began on March 3, 1936. In the meantime, more than 80,000 students have passed through this school.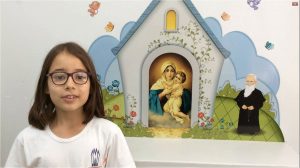 During his visits to Brazil, Father Joseph Kentenich devoted a great deal of time to the sisters, to their experiences in the application of his pedagogy and to give them directions for their concrete educational action. That is why this school, with its current Schoenstatt pedagogy, enjoys the trust of families, explains Sister Rosa Maria: "I always tell parents that we are not afraid to educate according to authentic Christian values ​​and bravely confront the ideologies. The Blessed Mother is the actual leader of our school and our pedagogy has already proven itself beyond two world wars and in other great difficulties. The values ​​we impart are valid for all times."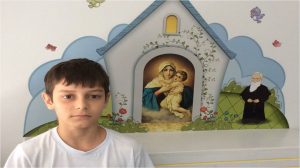 An ideal for an entire life
She explains that so-called ideal pedagogy is used by both the younger and the older students. In the first years, all classes have the same ideal and raise awareness of being children of God through Baptism. In the ninth year, with prayer and deepening spirituality – in separate groups of boys and girls – students seek an ideal by which they want to educate themselves in order to be able to respond to the situation of the times. So, for example, a group of boys has the ideal: "Heart of Fire: The Power of a New World" and an ideal of the girls is "Flame of Love." According to the ideal, they develop impulses for their lives and consecrate themselves to the Blessed Mother in the shrine.
Even years after graduation, a few graduating classes meet again and tell how the ideal accompanies them in their everyday life. "There were three reunions last year, one of which included a few former students who now live abroad and who have remained connected via the internet," says Sister Rosa Maria. Many former students work professionally in influential social positions. They express their gratitude for the values ​​they have received in the "Mãe de Deus". Others work in their own school, as teachers or psychologists, and demonstrate how their ideals influence their decisions.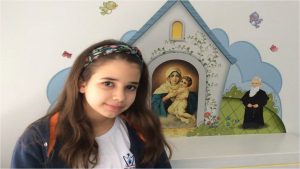 "Being Mary" as a leader of a large school.
"As headmistress of" Colégio Mãe de Deus ", I can bring in our charisma, first of all through my own testimony, because I am a reflection of Mary for the students. I strive to be a" little Mary" leading to the shrine. For example, every Monday at school there is a time when the Headmistress gives an impulse, and through this I try to deepen the bond with the Blessed Mother, her shrine, and the founder," explains Sister Rosa Maria and she continues that the students are very open and sensitive to these values: "The school is a place of refuge and a home for the students, it's wonderful how community is lived here."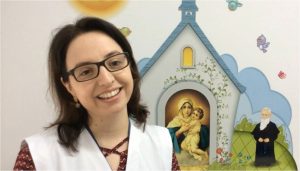 My greatest joy," she continues, "is to see the growth of the students and their parents' participation in the school's educational offerings." She continues to talk about how parents support the school, how they relate to particular trends, and how they participate together in political events to defend ethical and Christian values ​​in education. "That is all a great joy. It is not my own merit, but we owe it to Father Kentenich's charisma and the reliable pedagogical system that he has left us. When we hold on to our values, we will always have enough students and help to shape the new world ".