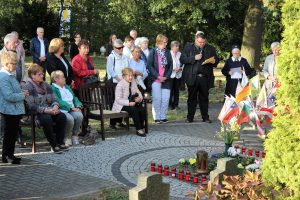 October 6, 2018 was a beautiful autumn day! Emilie Day in Haus Providentia in Koblenz-Metternich! Approximately 120 people had registered. Our concern in the Kentenich Year was to bring Sister M. Emilie into focus with our father and founder. We chose the theme:
How Father Kentenich conveyed to Emilie Engel the image of the merciful Father.
The topic aroused interest, as did the well-known speaker Sister Dr. M. Doria Schlickmann.
At 2.00 pm our lecture hall was filled with interested people, Emilie admirers, with relatives and acquaintances from the home of Sister M. Emilie. After a brief biographical account of Sister M. Emilie and Father Kentenich, Sister M. Doria presented the core experience in the lives of these great personalities.
Sister M. Emilie had a melancholy temper. Her basic attitude tended toward sensitivity and anxiety. Added to this was a false image of God, which characterized that time, and its concern about arousing God's anger. This became a fetter for her, which narrowed her and her life and left her unfree. Through Father Kentenich, however, she found inner freedom and relaxation.
Father Kentenich grew up fatherless, was in the orphanage for a while. The consecration of the nine-year-old to Mary was the core experience of his life. In his childhood, he discovered a key and a remedy for himself in becoming a child before God and Mary.
In the main part of the talk, Sister M. Doria unfolded how Father Kentenich unlocked for Sister M. Emilie the mystery of being a child before God. On her first visit to Schoenstatt, she experienced the activity of grace from the shrine. She soon trusted in the personality of Father Kentenich and experienced that a power radiated from him that was liberating for her. Later, in the educational school of Father Kentenich, she learned to let go of her own plans and devote herself completely to God; to regard difficulties in everyday life as tasks, not to break under them, but to grow and mature.
Father Kentenich made it clear to Sister M. Emilie that she was not alone in suffering. He knew what TB meant and knew this disease. He encouraged her to see love and suffering in context. Suffering and illnesses in our lives are most deeply expressions of the love of the Heavenly Father and they give us personal growth and maturity. "The Father cleanses the vine …" (John 15, 2).
Sister M. Emilie matured in the course of her life and became more and more of a personality, who, through the guidance of Father Kentenich, became a peaceful center in the community of sisters and a blessing for many.
Following this, the participants were able to strengthen themselves with coffee and cake before the presentation of the rest of the program.
Everyone had the opportunity to visit the grave of Sister M. Emilie. Because of the Kentenich Year, we made a small statio on the statue of Father Kentenich in our park. The artist, who carved this statue out of stone, wanted to perpetuate the last blessing of our founder on 15 September 1968 by the particularly clear representation of his blessing hands.
In another statio at the grave of Sister M. Emilie, with great confidence we placed our intentions and the many concerns of the people into her heart.
At 5:15 pm we celebrated Eucharist in our chapel. Pastor Markus Leber from the home of Sister M. Emilie and Pastor Bühler con-celebrated the Holy Mass. A Schola under the guidance of Sister Mariengund contributed to a worthy and solemn celebration with her songs. At each intercession, a light was lit in the concerns and intentions of the people who turn to Sister M. Emilie.
Some echoes testify that it was an enriching day:
"We have had a blessed afternoon today. We can only marvel at what happened to Sister M. Emilie, how she was able to cope with her illness and her difficult everyday life with the help of Father Kentenich. Through him she was transformed into a happy and radiant sister."
 "We have only recently known Sister M. Emilie. Through the talks, we have gained great confidence in her. "