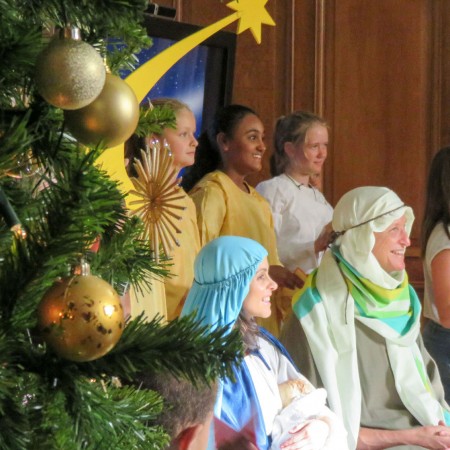 An annual event at Schoenstatt Constantia, Cape Town, is the Christmas Crib Crawl and Carol singing with the Sisters. At the Sisters' provincial house there are many beautifully decorated cribs. Visitors coming to the Shrine  are not aware of the other cribs. Therefore, annually on the Feast of the Holy Family,  we invite people to come for a "crib crawl" and a celebration with the Sisters.
Be a Star
This year, on arriving at the Shrine, people found a Sister there to greet them. She gave each one a sheet with prayers that could be said at the various cribs. She explained to the children that they must find five cribs and at every crib there would be a message on a large bright yellow star that they should remember. Small golden stars would also lead them through the house to the cribs. After finding all the messages the children –  and adults – learnt that they are called to be stars, people who, like Mary, S- search for God, T – trust God, A – ask God for what they need, R – are ready to do what God asks,  and S – serve others.
More than expected
"We need more sheets" a Sister commented as she rushed by on her way to photocopy extra sheets for the crib crawl – "the Shrine is overflowing"!  For some people, this afternoon at Schoenstatt is their Christmas celebration, an opportunity during their busy holiday schedule to take time and come into the presence of Christ, to sing traditional carols and celebrate Christ's birth in a meaningful way.
Family Gathering
After visiting all the cribs, everyone gathered in the hall at the last crib to sing Christmas carols and solve Christmas puzzles. The children were given bright yellow stars and invited to be star dancers as they followed the Sister leading the dance. The highlight of the afternoon was when a young person carrying a large star entered the hall followed by Mary, Joseph and Baby Jesus. The star dancers gathered around them as the Christmas story was told. Singing 'Silent Night' the stars danced around Baby Jesus, the divine, holy Child who was born for us.
Homemade Biscuits
Afterwards many gathered outside in the warm evening sun to enjoy cool drinks and homemade biscuits. "Who made these" one little boy asked, "My mommy wants the recipe".  Another woman commented: "That was such a beautiful afternoon; we will definitely be back next year, thank you Sisters."